WELCOME to RIVO'S aka Richard Marvin Voigt's LATEST DIGITAL ART CREATIONS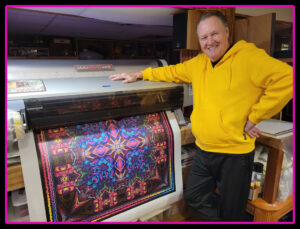 The consistent theme in my ever-expanding digital quilt series, it reflects the unique compositional complexities found with the beauty of shapes, color and textures that satisfy my soul. I do not market of sell my art. That will have to be done by someone more qualified than I. 
Each 38" x 38" canvas composition is a kaleidoscopic abstraction of a person, event or object of interest in my life referred to as the:
"Endless Sunrise Of Dynamic Balance."
Video Blog 1074 – The Incredible Digital Quilt
Created by Master Digitographer – Richard Marvin Voigt – RIVO
Richard Marvin Voigt (RIVO) is a Wisconsin born artist, author, educator, filmmaker and inventor. His artistic creations were redirected from traditional forms of art to digital art in 1987.  Fascinated by the powerful potential of his newly built computers, they afforded him unlimited flexibility in creating and designing compositions that soon began to satisfy his personal passion for digital art.
As he became more adept in handling software functions, he began experimenting with complex pixel restoration, archiving thousands of family photographs, old slides and documents bringing each back to their original quality. Throughout his life, he has taken hundreds of thousands of photographs and created thousands of original works of art that lead to experimentations in creating his Digital Quilt.
Each digital quilt composition is an abstract kaleidoscopic rendering of a person, place or object in the artist's life. The reoccurring theme he set for his quilt, places an emphasis on line, color and texture that often create optical illusions that play with perceptions; some advance while others retreat in his spatial and colorful compositions. With over 1400 compositions in this incredible digital quilt collection, when placed end-to-end the entire canvas quilt spans the length of over fourteen (14) professional football fields.
He has always admired the intricacy of hand-sewn quilts but wanted to create one on a grand scale using his unique approach. Just as each traditional quilt tells a story, so does each section of his quilt. Each 38" x 38" canvas quilt section can be placed contiguously up a wall, continue across ceilings, around corners and even constructed into shapes that can hang from the ceiling or connect on the floor in the form of a three-dimensional maze.
Many of these digital compositions capture the symmetrical wonders found growing in the prolific Wisconsin garden oasis his wife Lynn and he have created. Since they began sharing their garden on YouTube with over 1,000 video productions, their garden has now been seen by millions of avid gardeners from 132 countries. This rare glimpse into one of RIVO's thematic galleries is an intriguing insight into the creative mind of an artist who passionately explores non-traditional approaches in art while exploring new technology layered with a sense of eastern and western philosophy. If you appreciate and respect a creative mind, then this rare colorful collection will please and inspired your love for balance and metaphoric reflection.
SEE MORE VISIT: www.ART262.com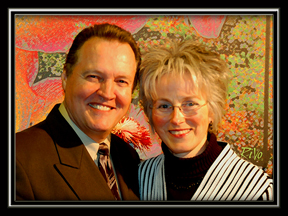 My wife, Lynn and I, will be celebrating our 55th wedding anniversary this August. We've raised three amazing children, Lace, Keye & Skye and have both been blessed with joyous 30-year careers as educators serving thousands of amazing students with Milwaukee Public Schools.
Despite being a very private person, artist, author, inventor and educator, I've taken tens of thousands of photographs, created thousands of unique works of fine art. Over the past decade my wife Lynn and I have many adventures including self-published over 80 books and journals, produced over a thousand garden related videos for our Wisconsin Garden website and YouTube channel, have volunteer as master gardeners, created and presented dozens of special interest programs for Waukesha County Technical College LIR program, local libraries and UWM Osher as part of their on-going learning in retirement programs.
Unlike most artists, I've been reluctant to exhibit or even market my artwork. I see my role mainly as an experimental eclectic artist who intends to fully explore the verb in artistic creation rather than nouns for walls. Don't get me wrong, I love sharing the final products with my loving wife Lynn. What she chooses to do with my art is totally up to her. It was only after the urging of several family members and influential friends who privately saw my experimental work that I gave in and finally agreed to exhibit my work years ago.
As an artist, I simply love to explore within the boundaries of symmetrical and radial balance. That's what satisfies my soul and propels me to continue experiencing new and exciting artistic ideas.  As an artist now in my 80's, I'm finding delight in experimenting with AI. While I only use the results of AI for inspiration, I choose to greatly play with the imagery in a different manner that's consistent with my Digital Quilt series.  I decided many years ago that any challenge I gave myself must be based on tasks that are fun!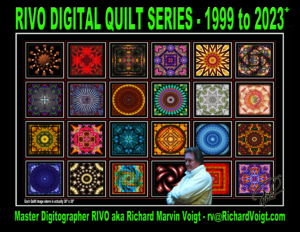 Video Blog 1062 – Richard's Digital Quilt Series – Vol. 2
While Richard and I wait for Spring to arrive and tend our gardens, Richard continues to create more colorful works of art for his incredible Digital Quilt Series. He started his quilt in back in 1999 which now consists of 1,227 compositions. Each print is 38" x 38" on canvas, when placed next to each other span the length of over 12 professional football fields. To achieve and maintain a thematic consistency, each composition was created as a symmetrical Kaleidoscopic abstraction that emphasizes his love of shapes, color, textures evoking a strong sense of balance, in this art series, as he also applies to life.
Lately he's been inspired by experimenting with Artificial Intelligence and the use of dynamic words while entering the creative world of AI imagery as inspiration for his quilt compositions. Then he takes those AI images and transforms them into his unique composition.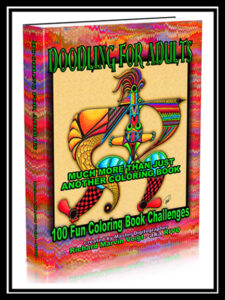 For those viewers new to our channel, he also published many of his unique doodles called: "Doodling For Adults" and Children of All Ages. It teaches his new approach to doodling, even for those who claim they cannot draw only to experience fun and successful results.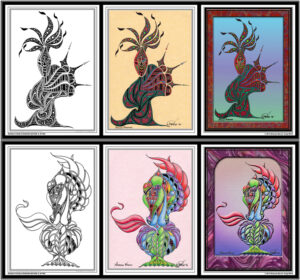 Check it out on Amazon: https://amzn.to/2WVf5Wi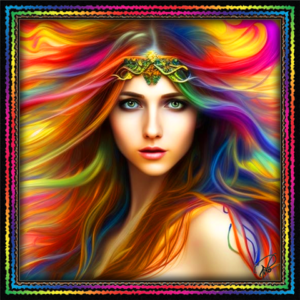 Video Blog 1061 – Richard's AI Art Project Vol. 1
We are doing fine and hope all is well in your part of the world as well. While there is No snow in our area of Wisconsin, we have been very busy. Now that I've finished publishing 3 of my own memoirs, I've been writing Richard's life story. In the meantime, we thought you'd enjoy seeing his latest AI Art project video. With thousands of works he's already created, here's a sneak peek. I hope you like it.
For those viewers new to our channel, we've recently published a 24-page Garden Video Blog Directory eBook listing over 1,000 of our garden videos each arranged by topic of interest from A-Z. If you'd like your free copy, please add the letters A-Z in the subject line of your email and send it to lynn@WisconsinGarden.com.